We

 

were

 

at

 

KulenDayz

 

-

 

a

 

slow-down

 

IT

 

conference!
The first week of September is reserved for attending our local IT conference - KulenDayz. It's a tradition at this point, and we couldn't wait to meet with our colleagues and exchange knowledge.
General
13 Sep 2022
4 min read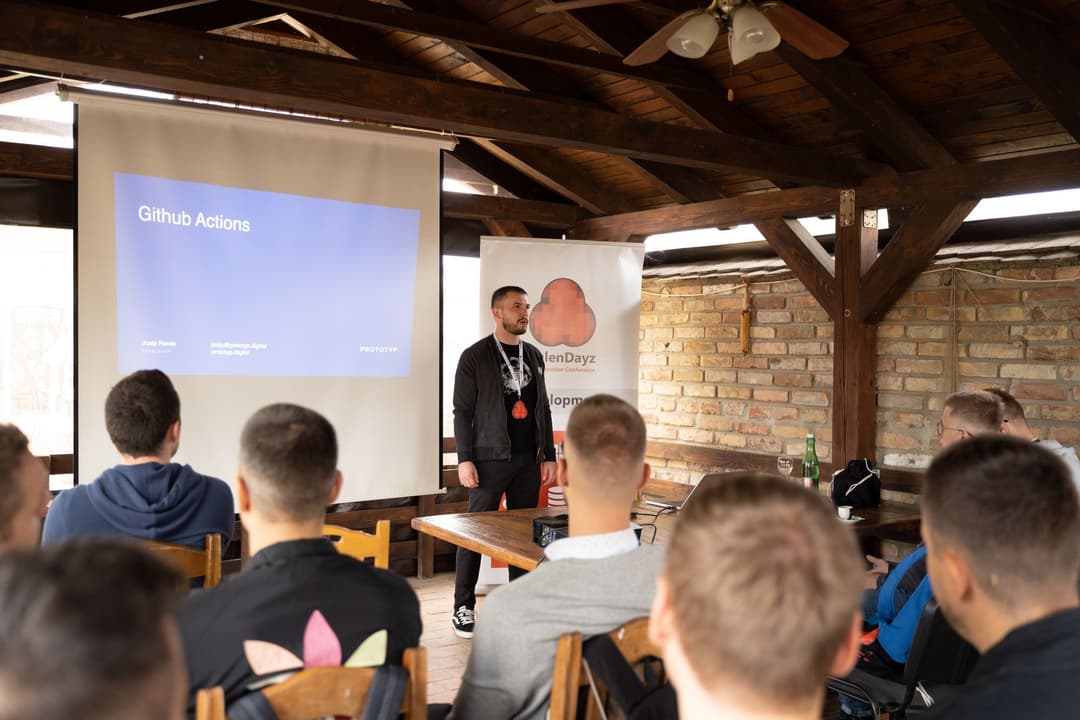 This year's conference was special for us since our developer Josip Ravas held a workshop, and developer Marko Stjepanek held a lecture. Continue reading to find out more about it.
GitHub actions in practice - workshop by Josip Ravas
Starting with the first day of KulenDayz, our developer Josip Ravas held a workshop "GitHub Actions in practice". This workshop was for everyone interested in continuous integration and continuous delivery (CI/CD) that helps you to automate the build, tests, and deployment pipelines. Josip did a great job reaching out to the audience and gave tips on how to use GitHub Actions in their repositories.
Most crucial operators in RxJS (used in Angular) - by Marko Stjepanek
On the second day of KulenDayz, our developer Marko Stjepanek held a lecture on "Most crucial operators in RxJS (used in Angular"). While explaining each operator there was theory explanation and live coding where he simply explained how and where to use it. The lecture was straightforward, simple, and understandable for everyone who uses JavaScript. By the end of the lecture, everyone had enough knowledge to jump into the RxJS ship and start doing amazing things.
KulenDayz is a great conference for the IT community where they can hear about new tools, share experiences and broaden their knowledge.  If you want to find an overview of workshops and lectures that stood out to us from the Design, Dev and PM track, continue reading.
Design insights
Saturday's Design track was the place to be for design enthusiasts. The sessions covered various topics from the field of UX and UI design, where aspiring designers and design veterans shared their experiences in dealing with work-related challenges.
In the first session, Zoran Vorkapić from Inchoo talked about the UX challenges in Automotive Website design and their approach. The solution was to simplify navigation and make the shopping process faster.
Nikolina Keleš from Bornfight presented about optimizing communication between team members and designers. She shared her experiences of working with developers, and the main takeaway from her session was to always have an open mind and try to understand the other side.
Freelance designer Marko Ilić talked about his everyday struggles with optimizing the design process and communicating with his clients. His main advice was to establish the right expectations before the project, so everyone knows what's possible in the given timeline.
Mario Šimić from Bornfight talked about ways to make large websites interesting. His solution to that problem was to create a robust design system, with customizable modules that can be used interchangeably for the corresponding sections of the pages.
In the final session for the day, Tomislav Kaučić shared a story about how claymorphism became a trend and how to make your claymorphic UI in Figma and with the good ol' CSS.
A bit more from the DEV track
Tomislav Bronzin from CITUS gave us outstanding insight about AI when he mentioned that a grandmaster in chess can predict 100 moves, where AlphaZero can predict 10 000 moves, and where State-of-the-Art Chess Engines can predict 10 000 000 moves which is fascinating.
Aleksandar Gavrilovic from Gamechuck explained the current situation in the game development industry in Croatia and explained the differences between Indie vs. AAA games.
Let's not forget about the PM track
This year PM track had many great workshops and lectures, but two stood out to us. On the first day of the conference, Nenad Trajkovski held a workshop about presentation skills. We knew from the start that it will be a very insightful one. He shared his experience and examples of how a good presentation looks and how to become great at giving presentations.
Another great lecture was Project Discovery Phase: roadmap, hints & tricks held by Roman Nits from EPAM. Roman explained all crucial phases of product discovery and shared tips on how to successfully launch a product.
Why should you visit the KulendDayz conference?
The best thing about KulenDayz is the variety of talks and direct contact with people from the industry. Events like these are an excellent opportunity for the IT community to grow its network.
Once the lectures were over it was time to slow down, unwind and hang out. Oh, and let's not forget about great food, rakija, and afterparty!
Until next year!
Coauthors of this post: Marko Boras & Marko Kolić
Written by Valentina Bermanec
Related Articles
Technology x Design
View all articles
View all articles