The

 

Geek

 

Gathering

 

is

 

back!
The Geek Gathering is back after ten years of a break! This non-typical IT event is back in a new, more engaging format. So what is The Geek Gathering, and how did we come up with the idea? 
General
18 Oct 2022
7 min read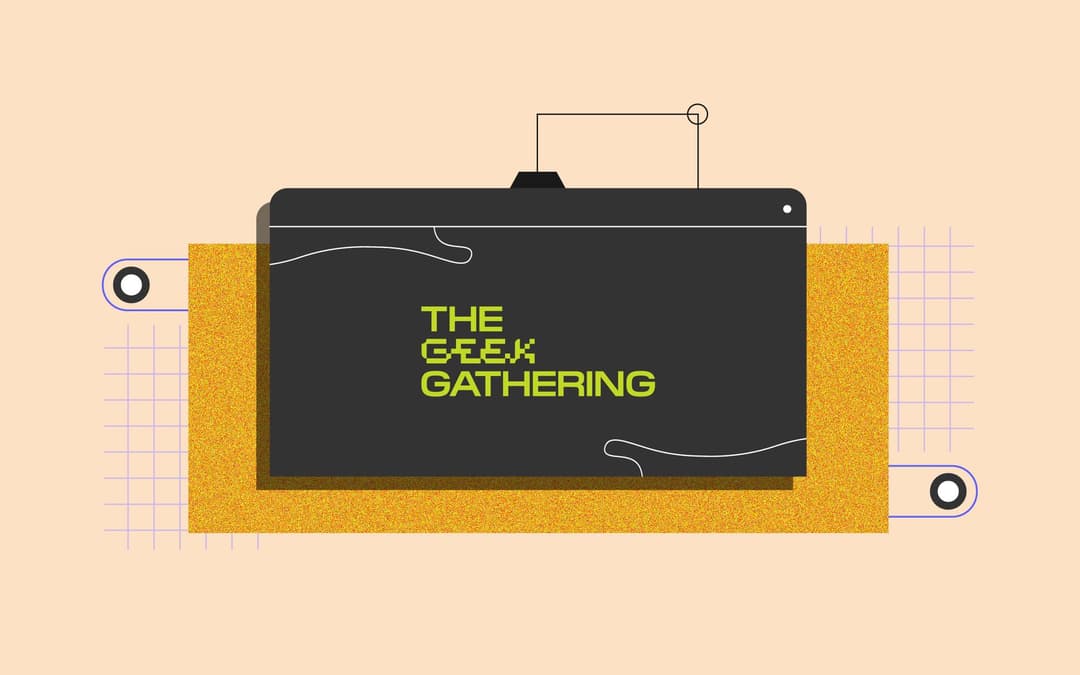 The Geek Gathering is for all the builders, risk-takers and tech enthusiasts willing to bring it to the next level. For the two days, our lovely hometown Osijek hosted more than 300 attendees from all around Croatia and Europe. This event had 4 locations, and 3 formats - Geeks on the big screen, masterclasses and workshops. The attendees had a chance to listen to more than 30 speakers, from different areas of IT, such as AI, VR, design, software development, cyber security and much more.
This event is special to us since we weren't just attendees, we were also the organizers. We are not gonna say it was easy, but we will say that months of organization and preparation were so much worth it.
We're bringing you an overview of talks and lectures attended by our team members. Keep reading and find out more details.
WHISKEY MASTERCLASS
For the welcoming of the guests, the first item on the schedule was Whiskey Masterclass to warm us up for the other lectures. Miroslav Kljajić, an experienced bartender and cocktail master, introduced us to the world of whiskey. We tried Monkey Shoulder, Glenfiddich 12, and Glenfiddich 15, and all we had to do was decide which whiskey fits which description.
FIVE KEY LESSONS THAT COULD HAVE SAVED ME TWENTY YEARS
Mislav Malenica, an AI engineer with 16 years of experience and CEO of Mindsmiths, had a fascinating lecture. He shared an inspiring story about his road to success in Silicon Valley and Europe, concluding that everything good in life doesn't come easily. As such an experienced engineer, he humbly shared his knowledge and gave us great lessons we can apply in life.
KICK-START – CONCERT – MUNGURU JAZZ BAND
To conclude the first day of The Geek Gathering event, our Željko Jake Prša, the drum player, had a concert with his Munguru jazz band in Trica cafe bar.
MAXIMIZE THE FLEXIBILITY OF YOUR FIGMA COMPONENTS
The design system architect, Shuaiqi Sun, or as he calls himself, Mr. Biscuit, showed us how to use our Figma components at the next level. He discussed the negatives of detaching our components, as well as, ways to maintain their customizability. We were more than impressed with the Figma examples he showed us with his live practice and the explanation of the whole process behind it.
UX AUDIT – YOU CAN ALWAYS DO BETTER
Katarina Barišić, a UX researcher at Netgen, showed us the process behind a good UX audit. During her masterclass, she walked us through some steps necessary to conduct a UX audit and explained how Netgen is doing it. During the lecture, we discussed some of the pain points we encounter while conducting UX audits. Additionally, she shared some helpful resources for improving UX.
THE MVP IS DEAD, WHAT NOW?
Tomislav Car, CEO of Productive company that helps agencies run their business in a better way, had a lecture where he explained how MVP in the past was the holy grail of software development and how today quality of software has skyrocketed. How can we make feature-rich, high-quality products with only 50 people? At Productive, their philosophy is to have the best customer support and listen to user feedback, which makes their users happy.
THE ART OF CYBER THREAT INTELLIGENCE
Bojan Alikavazović, SOC Tier 3 Analyst at Diverto, had an entertaining workshop for everyone interested in cyber security. The first part of the workshop was a theory he had learned about SAT techniques and how to collect and process data from an attack which are crucial steps in finding the attacker. In the second part of the workshop, attendees worked in groups where they had to solve a problem. For that purpose, all attendees became intelligence analysts for a moment, and they needed to find the country of an attacker by time, date, and events of attacks.
DIY Smart Home
Stanislav Mihić, Senior Software Engineer from minus5, and enthusiast for smart homes shared his advice on making our home smart. Stanislav talked about his experience and what is the current setup at his home. He also talked about different hardware, software, and best practices to bring them together. Tip of the day for beginners, simpler is better!
Who are you? OIDC Authentication - The Good, The Bad and the Ugly
Wekoslaf Stefanovski, head of Development at Sourcico, has been using JavaScript since the previous millennium and has a long and fruitful love/hate relationship with it. His talk was about using a third-party provider for verification of the identity of users. In his lecture, which can be a stand-up show, he showed us the good and bad sides of authentication and why and how to use Amazon Cognito.
CULTURE IN A NON-CULTURAL AGE OR NON-CULTURE IN A CULTURAL AGE?
As a partner at Symbol, Marko Jovanovac shared the insights he gained over 15 years of collaborating with the publishers and how he got into the book cover design industry after graduation. In his talk, he discussed the good, the bad, and the funny moments he experienced while working with people from the domain of culture.
DESIGN A DAY, DESIGN A MONTH, DESIGN A YEAR. REPEAT.
Ivan Levak, designer and owner of Dubovica Beach Bar, talked about how he balances two jobs and life. In his lecture, he discussed how to position ourselves when the opportunity arises to do more than we should, the pros and cons of doing so, and how to achieve our maximum potential even when we fail.
BUILD YOUR FIRST AI-FIRST APP!
Livio Benčik, head of AI at Mindsmiths, and his colleagues held a workshop where we built an AI-First app. First, they showed us an example app of an autonomous agent that could give diagnoses to its patients based on inputs we gave it through time. From there, we could see how the AI-first approach could be beneficial, especially in the medical field. We then created a Telegram chatbot using OpenAI and their Mindsmiths Platform, a platform for creating, evolving and running autonomous agents. It was a unique experience, especially for someone who didn't have some prior AI knowledge.
VIRTUAL REALITY - THE NEXT FRONTIER
Ivan Rajković, CEO of SpectreXR, and Matija Fumić, software engineer at SpectreXR, held an engaging session about virtual reality. They presented and demonstrated how they came up with the idea to create a low-code plugin for the development of realistic physics-based hand interaction inside the Unity 3D game engine. They talk about hand-tracking technology and examples of where it may be useful. In the end, it was time for some fun while we got a chance to try their work live on stage with VR headsets!
EARLY STAGE TECH INVESTMENTS IN CROATIA - STATE OF PLAY 2022/2023
Božidar Pavlović, Vedran Blagus, and Tomislav Car held a great panel moderated by Srđan Kovačević where they talked about the state of early-stage tech investments in Croatia. The discussion was amusing, and each speaker gave a unique explanation of how and why would they invest and the thought process behind it.
Have you ever been to a conference that doesn't have an afterparty?
Yeah, we didn't either. The main stars of the afterparty were an Electric Corn bend and DJ back2back, who kept the atmosphere steaming hot.
Until next year!
We must say how proud we are to be a part of The Geek Gathering. And to all the attendees, speakers, volunteers and staff, we want to say THANK YOU!
Hope to see you next year!

Thanks to the coauthors of this post: Darko Bogović, Marko Boras, Matej Mijić, Bruno Predrijevac & Marko Stjepanek.
Written by Valentina Bermanec
Related Articles
Technology x Design
View all articles
View all articles