Get

 

your

 

Geek

 

on

 

at

 

TGG

 

2023.
Dive into a tech haven at The Geek Gathering 2023 in Osijek, Oct 5-6. Unwind with engaging talks, easy networking, and end-of-day parties in a laid-back community vibe.
General
29 Sep 2023
3 min read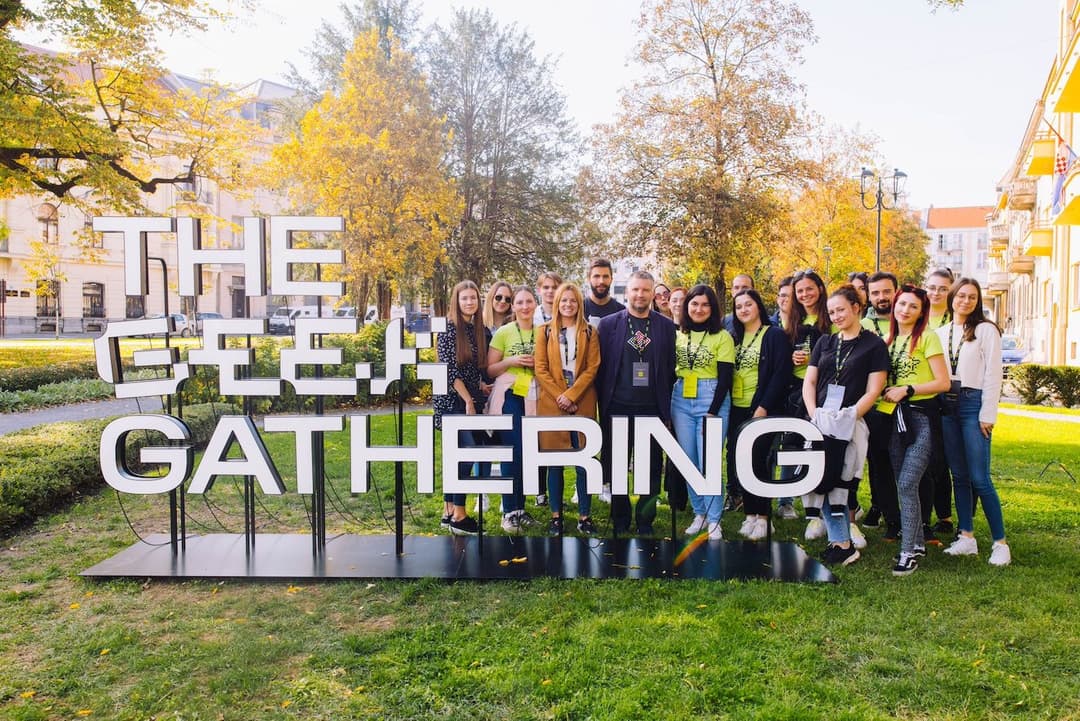 Kick back and dive into geekdom at The Geek Gathering 2023! As October unfolds, Osijek, Croatia turns into a relaxed tech hangout on Oct 5-6, offering a chill escape from a bustling September of conferences.
Nestled in the comfy settings of Cinema Urania, City and University Library in Osijek, American Corner, and the cozy Trica Caffe Bar, the event brings a tight-knit community vibe. The venues are just a casual stroll apart, letting you soak up Osijek's local charm without the need for wheels. Despite a bit of roadwork, the route to tech insights is clear.
Step into a conference where every path leads to fresh ideas, every corner buzzes with futuristic tech talks, and every chat could spark a lasting connection. Oh, and there's beer, beverages and delicious food, of course.
Day 0: CroAI Takes Over
CroAI extends its meetups beyond Zagreb, now touching down in Osijek. In a rapidly evolving AI-centric world, Osijek transforms into a hub of engaging dialogues on Oct 4. Dive into discussions with experts, professionals, and enthusiasts spanning various fields, exploring AI's monumental impact on modern living.
It's a confluence of minds — experts, professionals, and enthusiasts across various fields—all converging to share insights in a space brimming with informed discussions. Seize this chance to contribute to the shaping of the AI landscape. Osijek awaits!
Day 1: Kickstart at Trica Caffe Bar
As the clock strikes 15:30 on Oct 5, the heart of the gathering starts beating at Trica Caffe Bar. Registration opens the door to a realm of tech discussions starting at 17:00.
First on the agenda is an insightful dive into the startup ecosystem with "Starting-Up in Croatia — Raising Money from the US" by Vladimir Bosiljevac & Srđan Kovačević.
The narrative then shifts to fintech's bright horizon with "Aircash - A Rising Star of Fintech" by Hrvoje Ćosić, followed by a critical look at gadget sustainability in "Danas Gadget - Sutra Otpad?" by Ivan Hendija.
As night falls, the lively atmosphere shifts to Merlon Bar & Restaurant with a party starting at 21:00, creating a perfect setting for spontaneous networking and enjoyment.
Day 2: Talk, Talk, Talk
On Oct 6, explore a spectrum of tech themes across venues in Osijek from 09:00 to 18:15.
Get the whole schedule here: https://www.thegeekgathering.org/schedule
Highlights include AI, development, leadership, and product management discussions, allowing attendees to dive deep into contemporary tech narratives.
The Geeks Will See you Now
At TGG, the laid-back atmosphere is your canvas for networking. Casual meetups and discussion groups throughout the day pave the way for engaging exchanges. As talks wrap up, the parties kick off, transitioning the tech discourse into a fun, social vibe.
The casual setup breaks the ice, making it effortless to connect over shared tech interests, be it at a roundtable or on the dance floor. The proximity of venues and the communal aura foster a tight-knit tech community, turning fleeting interactions into enduring professional connections.
Join the geeks at TGG, Osijek from Oct 4-6. Dive into tech talks, meet like-minded enthusiasts, and bask in the relaxed, insightful ambiance. Your tech odyssey awaits!
Written by Zeljko Prsa
Related Articles
Technology x Design
View all articles
View all articles