Gathered

 

The

 

Geeks

 

-

 

2023

 

Edition
Taking a look back at two wonderful days at TGG 2023 and looking forward to next year.
General
3 Nov 2023
5 min read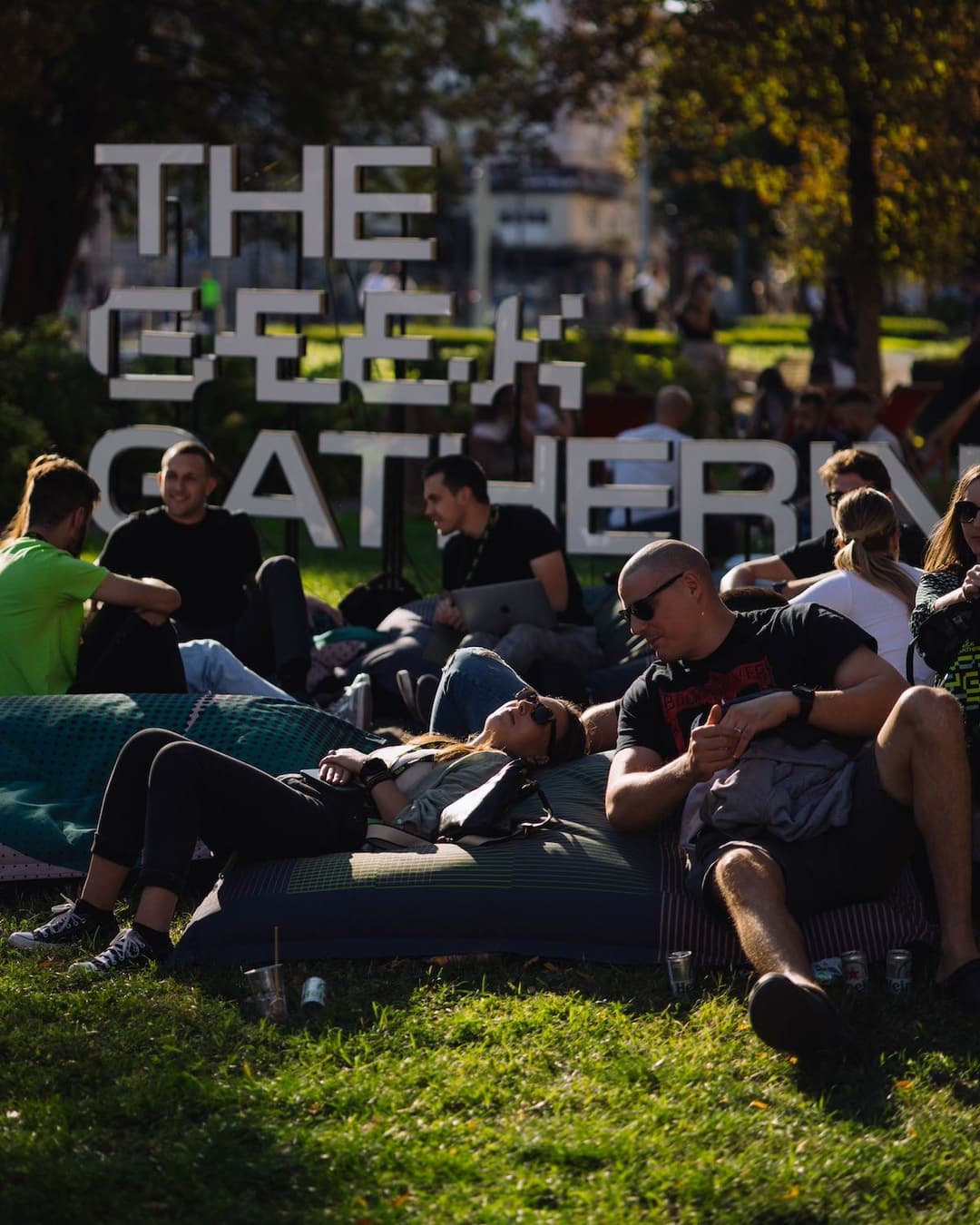 The Geek Gathering, which spanned over two days on October 5-6, 2023 was no run-of-the-mill tech conference. As per usual, it was a meeting point for the tech-curious, the daring, the builders, and the dreamers.
With an array of roundtables, masterclasses, and laid-back parties, it morphed into a playground where geeking out over the latest tech trends wasn't accompanied by a sales pitch.
This year's bash was touted as bigger, bolder, and geekier, marking it a red-letter event for tech aficionados far and wide. Over 400 attendees listened to 30 plus speakers doing more than 20 talks and over a half a dozen workshops.
It wasn't just the riveting talks that made the gathering magnetic, but the easy-breezy networking, the end-of-day shindigs, and that unmistakable community vibe.
As October rolled in, we transformed Osijek's uptown into a cozy tech alcove where geekdom reigned.
One of our fellow attendees reminisced about TGG 2023, noting it was an amazing ride not just on a professional level, but a personal one too:
"The whole experience was amazing on so many levels, but one thing stood out—the organizers really put people and socializing first instead of making a show and promoting themselves. - Merlin Rebrović, Google
This was more than an event; it was where curiosity found company, and every handshake was the prelude to a fresh adventure in the sprawling world of tech.
Scaling New Heights: TGG 2023 vs TGG 2022
The story of TGG is one of growth, with each year topping the last. Compared to TGG 2022, the 2023 event saw a surge in attendees, showcasing a community growing in numbers and enthusiasm. It wasn't just about the quantity but the quality of interactions that set TGG 2023 apart.
The masterclasses were the cherry on top, where seasoned pros unpacked tech subjects, igniting minds with fresh insights. And the buzz online mirrored the excitement on the ground.
Some of the feedback we got by people from Google, NEOS, Hrvatski Telekom and others:
"I really enjoyed it, and I hope you are also satisfied that you enabled others to have fun and learn something new." - Merlin Rebrović, Google
"An excellent event with excellent content. I'm looking forward to next year. I'll be back." - Dean Mišić, NEOS
"I_t was a very relaxed conference for me as a speaker and I really enjoyed it, so see you next year!" - Vlatka Šipoš, Resonate
"Great conference, atmosphere and event in general. You are doing a great job! Geek ON!" - Ivan Hendija, IDE3
"Organization and people for 10!"_ - Boris Bajs, Hrvatski Telekom
As we gear up for TGG 2024, the momentum from TGG 2023 lays a solid foundation to up the ante even more, making TGG 2024 not just a repeat but a leap forward.
Masterclasses: A Deep Dive into Tech Enlightenment
TGG masterclasses are where curiosity finds its mentor. The 2023 lineup was a spread of experts who shared not just information, but wisdom. The City and University Library in Osijek was more than a venue; it was where ideas found a voice. Let's recap who geeked out on what:
Emanuel Miličević - UX Playbook: Setting the Foundation, Focus, and Direction:
Emphasized the importance of understanding a company's goals, direction, and capabilities to deliver exceptional user experiences.
Ana Mandić - Wake Up Your Learning Brain:
Discussed the brain's energy-conserving nature which leads to a natural resistance to learning.
Vlatka Šipoš - Exploring Powerful Research Methods for Digital Product Development:
Highlighted the importance of understanding customer needs through research based on live user interactions.
Dunja Vidak - The Case Study That Will Make or Break Your Leadership Skills!:
Provided a case study for participants to analyze in groups, aiming to foster joint decision-making and presentation skills.
Petar Belavić - Lead the Change and Change the Leader!:
An interactive workshop disguised as a paper presentation, featuring educational games to teach leadership, team motivation, and managing change.
These masterclasses covered a broad spectrum of topics from UX design, neuroscience in learning, customer-centric research methods, to leadership and change management, offering a rich learning experience for attendees.
The success of these masterclasses is a promise of what's to come in TGG 2024, with even more diverse and engaging sessions. It's a voyage of intellect, and sponsors are the wind in our sails.
Venues: More Than Just Spaces
TGG venues are where the magic happens. In 2023, venues like the City and University Library in Osijek, Cinema Urania and Caffe Bar Trica were not just spaces but experience hubs. Their layout and ambiance broke the ice, making networking feel like a friendly chat.
Looking ahead, TGG 2024 aims to find venues that amplify this camaraderie and intellectual buzz. It's an open invite to sponsors to help craft spaces that inspire and ignite imaginations.
The Road Ahead: TGG 2024
The applause from TGG 2023 sets the beat for what's coming in TGG 2024. It's not just about another tech conference; it's about creating a thriving ecosystem of learning and networking.
The plan for TGG 2024 is already bubbling with ideas to create a more engaging and inclusive event. Sponsoring isn't just about backing a tech event, but about forging a partnership in sculpting a community that's not only intellectually robust but also warmly inviting. If the sparks of TGG 2023 ignited your interest, reaching out to be a part of TGG 2024 could fan them into a flame of engaging tech camaraderie.
TGG 2024 isn't just a date on the tech community's calendar; it's a page in the narrative of tech evolution. It's an open invite to be woven into a community's journey, a shared learning adventure, and a legacy that's in the making.
A heartful shoutout to all the speakers, the TGG crew, and the attendees who made TGG 2023 a chapter worth revisiting. Here's to not just reminiscing the geeky past but to crafting a geekier future. See you all next year!
Written by Zeljko Prsa
Related Articles
Technology x Design
View all articles
View all articles